PREPARING YOUR HOME FOR REAL ESTATE PHOTOS
Since Buyers are searching online for homes, the need for professional quality Real Estate Photos has never been more important. Good photos will get Buyers into your home. Photos of a messy or cluttered home will have the opposite effect. Hiring an experienced Real Estate agent is one of the best things you can do to ensure your home stands out from the competition. Using an inexperienced agent who "snaps a few photos" with their smart phone may not do your home justice. Preparing your home for a photo shoot takes time, skill and planning. Before the photos are taken, there are a few things you should do to ensure the best results. This article will provide you with all the information you need to prepare your home for a successful photo shoot.
Getting Started
The more you prepare your home before the photographer arrives, the better the pictures will look. Remember, the photographer is hired to take the photos and make the space look bright and inviting through the camera lens. It is not their job to clean up the mess. They can only do so much with a house that is cluttered, dirty or messy. The better the photographs look, the more your home will show. More showings may help your home sell faster and for more money.
The first step is to remove the clutter. It is always best to clear the clutter out of every room, because a clean space is more appealing. The goal is to create an open and inviting room which Buyers can imagine themselves living in. If you include too many personal items, such as photos and knickknacks, it becomes more difficult for Buyers to imagine their own items in the room. Get rid of the distractions and eliminate any clutter that may be present.
Once the clutter is removed, each room should be dusted, vacuumed, swept and mopped (if applicable). A quick wipe down to "clean" the house isn't enough. It is important that all areas are deep-cleaned in order to remove dirt, grime or anything else that might be visible. Be sure to thoroughly clean baseboards, lighting fixtures, ceiling fans, and air vents. Don't forget to have the carpets cleaned and windows should be spotless. If you find you have too much clutter, and you're "not quite ready" to throw it away, then please move it to a secondary bedroom for the photo shoot. Clutter may include items such as stacks of papers, boxes, laundry, toys, etc.
Pets And Children
Children and pets are an important part of any family; however, they sometimes get in the way during a photo shoot. Please don't let the dogs run around in the yard during the photo shoot and indoor animals should be moved out of each room as it is being photographed. All pet beds, kennels, toys, feeding dishes, etc. should be put away. Same goes for children's toys, high chairs, playpens, etc.
Exterior Preparation
No cars in the driveway or in front of the house
Landscape should be freshly mowed, edged and trimmed
Bushes and plants should be trimmed and manicured
Patios and decks should be swept and hosed off
Weeds should be pulled and removed
Sweep porch and sidewalks
Wrap up garden hoses and put them in the garage or shed
If you have patio furniture, wipe it down and make sure cushions look clean
Put away items such as garden tools, trash cans, toys, pool toys, etc.
Remove any dead plants
Clean pool (if applicable) Remove pool skimmer for photos. Turn on water features
Kitchen
No dirty dishes in sinks or on countertops
Nothing on top of the refrigerator (unless it's decorative items)
Remove any magnets, photos or papers from refrigerator
Remove visible "child-proof" equipment on cabinets, doors & drawers (for photos)
Countertops should be as open as possible. Remove clutter and small appliances
Put away hand and dish soap bottles, detergent, cleaning supplies, sponges, mops, etc.
Remove any misc. papers, mail, bills, cell phone cords, laptops, pens, etc.
Put away bread, chips, bags, etc.
Clean all appliances, especially cooktops and microwaves. Clean wall behind stove
Remove pet food and water dishes (for photos)
Replace any burnt out light bulbs
Living And Family Rooms
Remove any magazines
If you have a nice coffee table book, set it out as decor on the table
Replace any burnt out light bulbs
Put away TV remotes, video game systems, DVD's etc (they should not show in photographs)
Remove any toys left out by kids
Remove pet beds
Straighten couch cushions, pillows, etc.
If bookshelves are in the room, take out half of the books and arrange the remaining books in a nice pattern. Keep the nice hardback and colorful books and hide the paperbacks, etc.
Remove playpens, baby swings, high chairs, etc.
Dining Rooms
Make sure the dining table is scrubbed and the chairs are arranged neatly around the table
You might consider placing a nice centerpiece on the table, such as bowl of fresh fruit or a floral arrangement
Don't leave any leftover plates or dishes on the table, and make sure that the remnants of the previous meal have been cleared away
No papers on the table
Bathrooms
All personal items should be completely out of sight (toothbrushes, hair dryers, dirty clothes, dirty towels, facecloths, shampoo, conditioner, razors, hair clips, etc.)
Mirrors, shower stalls, tubs, sinks and countertops should be spotless
The garbage cans, bathmats, laundry baskets, extra toilet paper, the toilet brush, and scales should also be moved out of the room
Close the toilet lid, and hang fresh towels on the towel rails
Remove any baby/child toys from tub and shower
Make sure all light bulbs are in working order (above mirror, etc.)
Photos may be taken inside shower. Please ensure all soaps, shampoos and personal items have been removed
Bedrooms
Make beds and straighten pillows
Remove all personal items from nightstands (i.e. phone chargers, tissue boxes, lip balm, glasses of water, books, jewelry, etc.)
It may be tempting to stuff everything under the bed in order to hide the clutter, but the items under the beds can often be viewed in the real estate photos (as well as real estate videos). Instead of trying to hide clothing and toys under the bed, move everything out of the room so that the space is as open as possible
Remove clutter, dirty clothes, purses, shoes, stuffed animals, etc.
When you hire THE MYERS TEAM to sell your home, you are hiring THE BEST. Our homes sell FASTER and for MORE MONEY due to our online marketing. More than 90% of homebuyers are searching the Internet looking for homes. Our professional photography and virtual tours will make your home STAND OUT. Additionally, our photos are enhanced with Adobe Photoshop.
CALL US TODAY for a FREE consultation. We will gladly come out to your home and walk with you from room to room, answering questions and offering advice to help get your home ready for sale. Why sell unless you can get TOP DOLLAR? Let us show you how. Call us today to GET STARTED 702-677-4343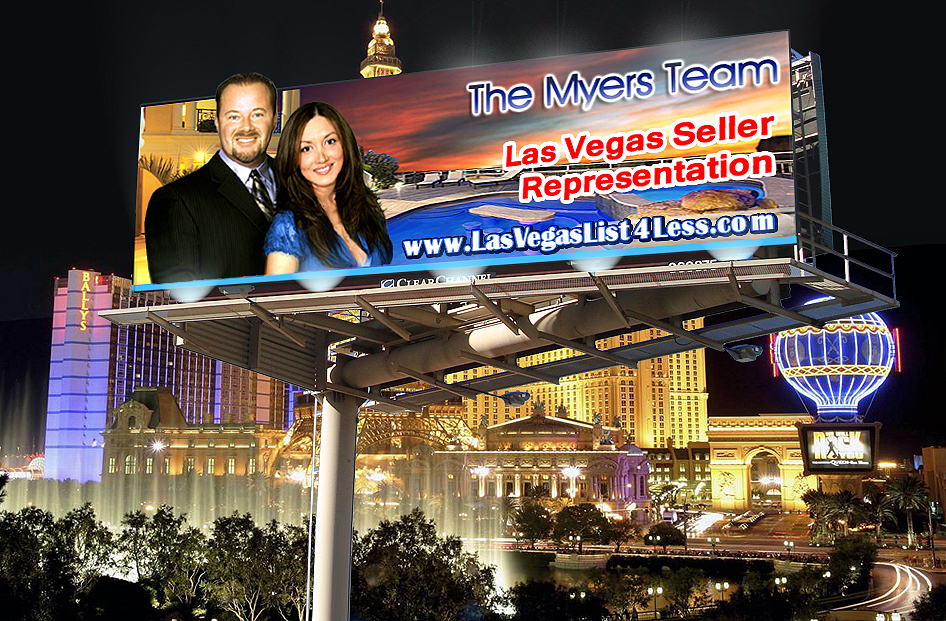 * The Myers Team are licensed Real Estate Agents in Nevada. They are not property managers or licensed in property management. #1 Status is based on production from January 1, 2007 through December 31, 2011. The information provided is obtained from public records, it is deemed reliable but not guaranteed. The Myers Team are NOT lawyers, nor qualified to give legal advice of any nature. The Myers Team are NOT accountants, CPA's nor qualified to give tax advice. This web site is not intended to offer legal advice and all information contained in this web site is for information purposes only. All of the information contained in this web site is subject to change. All site software, design, text, images, photographs, illustrations, audio clips, video clips, artwork, graphic material, or other copyrightable elements, and the selection and arrangements thereof, and trademarks, service marks and trade names (the "Material") are the property of The Myers Team™ and/or its subsidiaries, affiliates, assigns, licensors or other respective owners and are protected, without limitation, pursuant to U.S. and foreign copyright and trademark laws. The Myers Team™ hereby grants you a personal, non-exclusive, non-assignable and non-transferable license to use and display, for noncommercial and personal use only, one copy of any material and/or software that you may download from this Site, including, without limitation, any files, codes, audio or images incorporated in or generated by the software provided that you maintain all copyright and other notices contained in such Material. You agree not to reproduce, modify, create derivative works from, display, perform, publish, distribute, disseminate, broadcast or circulate any Material to any third party (including, without limitation, the display and distribution of the Material via a third party web site) without the express prior written consent of The Myers Team™. Use of http://www.NevadaShortSaleInfo.com and/or http://www.VegasShortSaleInfo.com and/or http://lasvegaslist4less.com and/or its licensors' Material is only permitted with their express written permission. You further agree that you will not disassemble, decompile, reverse engineer or otherwise modify the Material. Any unauthorized or prohibited use may subject the offender to civil liability and criminal prosecution under applicable federal and state laws.